Ryanair is Europe's largest airline company carrying 130 million customers a year on more than 1,800 daily flights from 86 bases, connecting over 200 destinations in 33 countries. Based on a low-cost business model, Ryanair makes travelling across Europe easier, faster, and more affordable.
Ryanair, along with Erasmus Student Network, has committed to improving Erasmus experience for all European students. That is why, from September on, when flying with Ryanair, all ESNcard holders will be able to enjoy 15% discount on up to 8 single (or 4 return) flights, free 20kg checked-in bag, and tailored travel offers, among many others.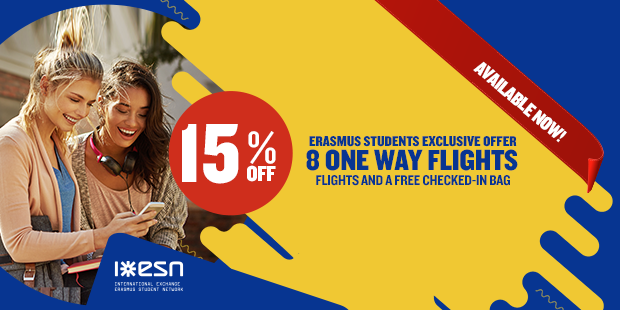 For the discount to apply, you have to be in possession of an active ESNcard.
Don't have one yet?  Learn how to get it right away!
If you have an ESNcard, follow these steps to use the discount:

1- Register in ESNcard.org. Fill in all the blanks in your user profile - also your ESNcard number.
2- Go to myRyanair and sign-up (or log-in if you already have an account).Add your details in the "Erasmus" tab of your myRyanair dashboard.
3- Wait until your ESNcard and other details are validated.
4- Once it is validated, use the booking widget at the bottom of the Erasmus section of your myRyanair dashboard to make your bookings at a discounted rate. Only bookings made using this widget will be considered for the discount, so make sure you do not use the normal booking engine of Ryanair or any other booking systems.